Property Investor Europe: Reykjavik, Charting a public-private way forward
Valdimar Armann, CEO of GAMMA, talks about public-private investment opportunities, foreign investment and tourism in Iceland, in a recent interview with Property Investor Europe.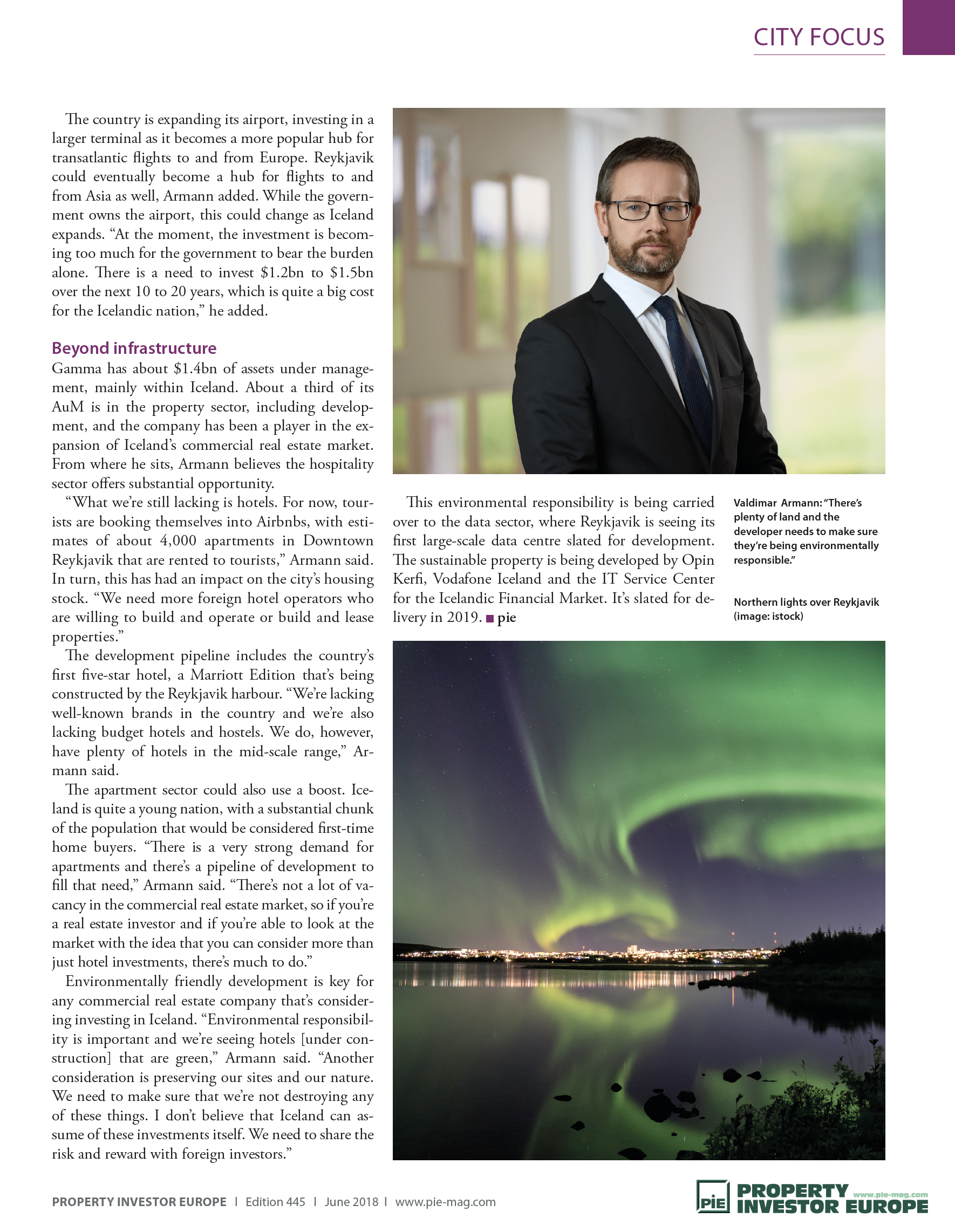 Reykjavik has emerged from the global financial crisis with an exploding tourism industry – and an urgent need for new hospitality, retail, and housing stock as Iceland works to reposition itself as a unique destination and a bridge between disparate parts of the world.
A newly released study from Reykjavik-based Gamma Capital Management, the country's largest independent asset management company, tallies a number of public-private investment opportunities and outlines what needs to be done in order for the country to tap into the growth of tourism and other industries that have blossomed since the end of the financial crisis. The bottom line is that tourism inflows don't match the capacity of the country's airport, transportation infrastructure, or hotel rooms, said Valdimar Armann, CEO. There's also rising demand for retail, office and apartment properties.
The rapid expansion of Iceland's tourism industry over the past 10 years has put some strains on the country's infrastructure, particularly the airport and roads. "Iceland, which has a population of 350,000, had roughly that number of tourists 10 years ago. Annual tourism is now about 2.5m, which means that roughly, we're adding about 70,000 to 80,000 people to the country every day," Armann said. "We need more foreign investment into Iceland. We need to build a sustainable tourism structure and allow operators and investors to come in."
Building a tourism platform
Iceland, which recently came out of capital controls, is encouraging domestic investors to diversify their assets. It's also working to draw in foreign investors. "There's too much home bias for pension funds and private investors," Armann said. "The other side of the equation is that as the growth of tourism has magnified, there's substantial need for Iceland to receive foreign investment. The larger story is about drawing in investors to spread the risk and tap into their expertise."
It's not difficult to build in Iceland, although there is an established process that moves reasonably quickly. "There's plenty of land and the developer needs to make sure they're being environmentally responsible," Armann said. While it's more difficult to get permits in Reykjavik, the city is open to new ideas, he added.
But while there's a broad need for properties, the need to expand Iceland's airport and surrounding transportation infrastructure is an urgent issue. "At the moment, we have only the road from the airport to Reykjavik, which takes fifty minutes from the airport to the capital centre," Armann said. While there's been a feasibility study that maps out the creation and operation of an express train, the cost would be about $1bn. "This initiative would likely have to be a public-private partnership," he added.
The country is expanding its airport, investing in a larger terminal as it becomes a more popular hub for transatlantic flights to and from Europe. Reykjavik could eventually become a hub for flights to and from Asia as well, Armann added. While the government owns the airport, this could change as Iceland expands. "At the moment, the investment is becoming too much for the government to bear the burden alone. There is a need to invest $1.2bn to $1.5bn over the next 10 to 20 years, which is quite a big cost for the Icelandic nation," he added.
Beyond infrastructure
Gamma has about $1.4bn of assets under management, mainly within Iceland. About a third of its AuM is in the property sector, including development, and the company has been a player in the expansion of Iceland's commercial real estate market. From where he sits, Armann believes the hospitality sector offers substantial opportunity.
"What we're still lacking is hotels. For now, tourists are booking themselves into Airbnbs, with estimates of about 4,000 apartments in Downtown Reykjavik that are rented to tourists," Armann said. In turn, this has had an impact on the city's housing stock. "We need more foreign hotel operators who are willing to build and operate or build and lease properties."
The development pipeline includes the country's first five-star hotel, a Marriott Edition that's being constructed by the Reykjavik harbour. "We're lacking well-known brands in the country and we're also lacking budget hotels and hostels. We do, however, have plenty of hotels in the mid-scale range," Armann said.
The apartment sector could also use a boost. Iceland is quite a young nation, with a substantial chunk of the population that would be considered first-time home buyers. "There is a very strong demand for apartments and there's a pipeline of development to fill that need," Armann said. "There's not a lot of vacancy in the commercial real estate market, so if you're a real estate investor and if you're able to look at the market with the idea that you can consider more than just hotel investments, there's much to do."
Environmentally friendly development is key for any commercial real estate company that's considering investing in Iceland. "Environmental responsibility is important and we're seeing hotels [under construction] that are green," Armann said. "Another consideration is preserving our sites and our nature. We need to make sure that we're not destroying any of these things. I don't believe that Iceland can assume of these investments itself. We need to share the risk and reward with foreign investors."
This environmental responsibility is being carried over to the data sector, where Reykjavik is seeing its first large-scale data centre slated for development. The sustainable property is being developed by Opin Kerfi, Vodafone Iceland and the IT Service Center for the Icelandic Financial Market. It's slated for delivery in 2019.
This article was published in Property Investor Europe, edition 445, June 2018.