GAMMA's specialists are prominent in Iceland's economic debate
Employees of GAMMA Capital Management have always taken an active part in the public debate about Iceland's economy and social issues. 
GAMMA Capital Management's employees have extensive knowledge and experience in the field of economics, monetary policy, and business. They are often sought to comment on recent developments in news. This is a compilation of economic news in the latter half of 2017 where GAMMA's specialists are quoted.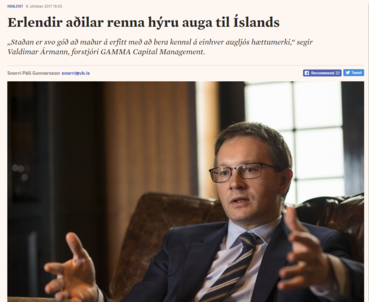 Early October Viðskiptablaðið Weekly Business Journal published an extensive interview with Valdimar Ármann, CEO of GAMMA in Iceland. In the interview he talked about GAMMA's operations and business, while also covering issues such as foreign investors' increased interest in Iceland and the need for added investment in infrastructure projects.
Lowest misery-index to date
A day prior to the interview in Viðskiptablaðið Valdimar Ármann had an article published in Markaðurinn a weekly business journal that accompanies the daily newspaper Fréttablaðið. There he wrote about the so called Misery-Index, which has seldom been lower than presently. A week later Viðskiptablaðið published another article by Ármann in which he argued that Iceland is faced with its longest period of economic growth since the formation of the republic.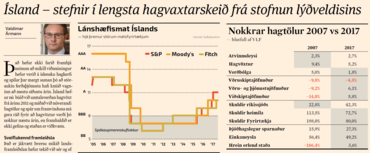 In the wake of the ICB's latest interest rate change Ármann also spoke to Fréttablaðið about the implications of the ICB's decision. Morgunblaðið daily newspaper's Business Magazine also interviewed Agnar Tómas Möller, GAMMA Capital Management's Fund Manager, in relation to the ICB's rate change. On Thursday 19 October, the same publication also asked for Möller's opinion on the property markets' influence on developments on the bond market.
Valdimar Ármann has been notable in public debate on the ICB's interest rate decisions and monetary policy. During mid May, Ármann was asked about the ICB's interest rate cuts both in Viðskiptablaðið and Morgunblaðið's Business Magazine. Ármann said that the rate cut then was a step towards projecting Iceland's economic success to homes and companies.
Discussion on capital controls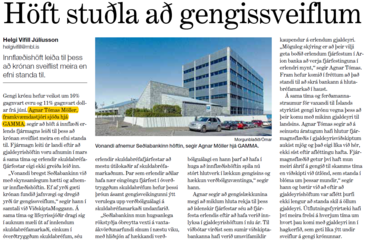 In late September, Agnar Tómas Möller was interviewed about the market turbulence connected to the government's crumble and the upcoming elections. In Markaðurinn, Möller said that while political unrest was certainly a factor influencing inflation expectations, rising inflation was foremost due to how the ICB's ongoing restrictions to the inflow of foreign capital had, in the months prior, pushed up the interest rate.
In recent years Möller has been critical of the ICB's policies, the currency controls and rules restricting the inflow of foreign capital. In early September, Möller's article was published  in Markaðurinn: The ICB's Circular Reasoning (Icelandic; Hringskýring Seðlabankans). He pointed out how the effects of the restrictions to the inflow of foreign currency were becoming more apparent after the restrictions to the outflow of currency had been lifted. Möller voiced similar views in an interview in Morgunblaðið mid-August saying that inflow controls led to more fluctuations in the krona (ISK) than would have occurred otherwise.
Fréttablaðið quoted Möller in late August, saying that the ICB's foreign capital inflow restrictions were the principal reason long term interest-rate differentials to foreign markets had remained high.
Morgunblaðið Business also spoke to Möller about the inflow restrictions at the end of June. Around that time, The New York Times published an article on GAMMA Capital Management's new funds a result of foreign interest in Iceland. Hafsteinn Hauksson, GAMMA's economist in London, who was interviewed, pointed out that GAMMA's funds had doubled in size last year. Hauksson was also interviewed by Bloomberg early in May. There he talked about how the krona was doing after the ICB' rate decision.
Foreign investment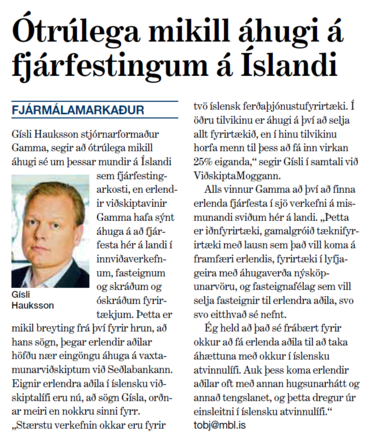 After the lifting of currency controls GAMMA has been prominent in discussions about foreign investment in Iceland. Morgunblaðið interviewed Gísli Hauksson, chairman of GAMMA Capital Management and CEO of GAMMA in London, in mid-September, asking him about the interest of foreign investors in Iceland and the proposed sale of Icelandic travel companies to foreign investors. Late in May, Möller wrote an article about the opportunities that at the time had opened to Icelanders after the lifting of currency controls. GAMMA's seminar about foreign investment, held in mid-September, also got some coverage. For instance, Fréttablaðið spoke to Friðrik Már Baldursson, professor of Economics at the University of Reykjavík and GAMMA Capital Management's economy advisor He explained that in the course of only a few months the Icelandic krona had gone from being one of the world's most stable currencies to being one of the least stable.
Other issues
As pointed out above, GAMMA's employees regularly publish articles.    In June, Jóhann Gísli Jóhannesson, fund manager at GAMMA, covered the Icelandic stock market in Vísbending Economy Journal. Hafsteinn Hauksson also wrote an article in Vísbending in June, drawing up the effects of the currency controls had in the years 2008-2017, including lost opportunities and economic growth that never came to pass. At the end of September, Hauksson wrote another article in Vísbending about how the British had attempted to compensate smaller investors with the use of tax-free savings accounts.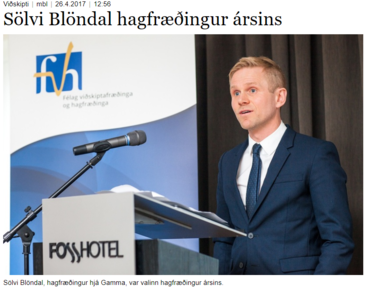 Late in August Sölvi Blöndal, economist at GAMMA, wrote an article in Markaðurinn about the Icelandic population's age composition. Sölvi was also quoted in Markaðurinn about the necessity of increased investment in infrastructure in Iceland. It is also worth noting that Blöndal was in April elected economist of the year by the Association of Business Graduates and Economists (FVH).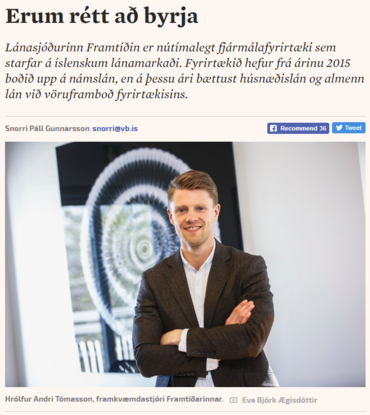 In June, Viðskiptablaðið published a special issue on business innovators, interviewing, among others, Hrólfur Andri Tómasson, CEO of Framtíðin Loan Fund, about the changes happening on the financial market and the fund's innovations. Valdimar Ármann wrote about the Icelandic economy and possible freedom for a lower interest rate in Morgunblaðið early-May. Jóhann Gísli Jóhannesson, fund manager at GAMMA, told Markaðurinn in July that notifications about short-sales were likely to reduce investor's interest in short selling securities.
Friðrik Már Baldursson was also interviewed in length on the radio talk-show Sprengisandur in early-October. Baldursson covered subjects such as the ICB's rate policy and monetary policy.
News on gamma.is
GAMMA Capital Management also regularly publishes news on its websites, gamma.is and in English on gamma.is/en, where a news feed can be subscribed to. GAMMA's indexes covering the Icelandic securities market are also published online and can be subscribed to here.