GAMMA publishes a book on Iceland's version of Progress
The book systematically covers how humanity presently has never been better off.
GAMMA Capital Management in cooperation with publisher Almenna bókafélagið, released an Icelandic translation of the book "Progress", by Swedish historian and television host Johan Norberg. The book systematically covers how humanity presently has never been better off.
People are constantly being bombarded with news of misery, hardship, disease, struggle, pollution, and other calamities. All this is especially reflected in political discourse, where over the world, there are bleak pictures of people's existence, alongside nostalgic references to a better time in the past.
Johan Norberg paints a different picture. He says that poverty in the world has decreased significantly, that health is in general much better, there is less violence, and fewer wars, and that science and technology has enabled man to improve his environment to defend himself against disasters. In the field of politics, the enlightenment led to classical libertarianism and in its wake the 19th century industrial revolution that allowed man to conquer poverty and hunger. This story has repeated itself faster than ever before with the internationalization of the 20th century. Simultaneously, hygiene has improved, food production progressed, as well as education, with increased literacy and, finally, more freedom and democracy. Even though various evils can still be found in the world, mankind has every reason to be optimistic about the future.
Norberg says in his book:
"We must remember the amazing progress that has resulted from the slow, steady, spontaneous development of millions of people who were given the freedom to improve their own lives, and in doing so improved the world. It is a kind of progress that no leader or institution or government can impose from the top down."
Celebrating the book's release, the University of Iceland's Institute of Public Administration and Politics held a meeting with Johan Norberg.. He talked about his book and afterwards met Gísli Hauksson, chairman of GAMMA Capital Management.
The Icelandic translation of Progress (Icelandic: Framfarir) can be found in general bookstores in Iceland and at the publisher's, Almenna bókafélagið. Copies can also be purchased by sending an e-mail to gamma(at)gamma.is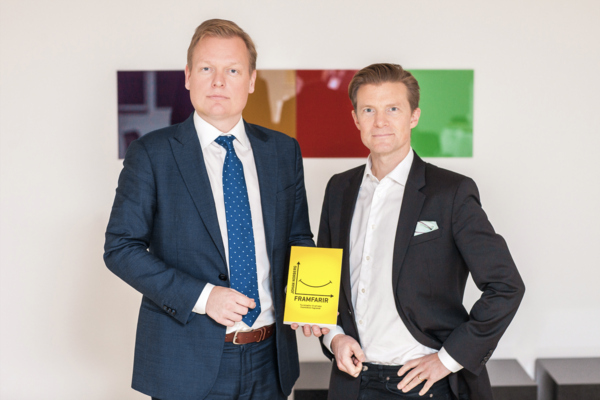 Gísli Hauksson, GAMMA's chairman, and Johan Norberg, author of "Progress".