GAMMA and the British Embassy Reykjavik sign agreement on UK Chevening scholarships
GAMMA supports Chevening scholarships for two years. The scholarship is offered to Icelandic students who are going to study for a master's degree in the UK.
The British Embassy Reykjavik and GAMMA Capital Management have signed a two-year agreement to offer Chevening scholarships in Iceland. The scholarship is for postgraduate master's studies at a UK university and amounts to 10,000 GBP a year. Prospective students intending to study finance-related subjects are particularly encouraged to apply for the scholarship.

Chevening scholarships are funded by the Foreign and Commonwealth Office and partners and is the most prestigious UK Government overseas scholarship award. The British Embassy Reykjavik is responsible for implementing the scholarship in Iceland. The Chevening scholarship has been awarded since 1983 and about 1,600 Chevening scholars from across the world will start studying in the UK this autumn. Chevening scholars are part of an international network, which today has about 48,000 alumni, including many national leaders and other leaders in the world. The aim is to support leaders of the future who can shape domestic and international affairs, while drawing on their experience and close relationship with the UK through their study. President of Iceland, Gudni Th. Jóhannesson, is, for example, a Chevening alumnus. The Icelandic scholars are invited to participate in various events, both in the UK and in Iceland which help them achieve a deeper understanding of UK society, institutions, policy making and culture and develop important networks for the future. 
Gísli Hauksson, Chairman and CEO of GAMMA:
"Since GAMMA started operating in the UK over two years ago, we have put focus on strengthening the relationship between the two countries in the field of education and culture. It is therefore a great opportunity to participate in supporting Icelandic students in their postgraduate studies in the UK, in collaboration with the Foreign and Commonwealth Office. Many of the best universities in the world are in the UK and it is therefore desirable to study there."
Michael Nevin, British Ambassador to Iceland, welcomed the agreement. "This is fantastic news. GAMMA is an important investor in the UK. Their collaboration with the Embassy helps support the strengthening of links between the UK and Iceland now and for future generations. It fits with the Embassy's objectives to broaden and deepen our bilateral relationship as part of Global Britain. I encourage candidates to apply and compete for this prestigious scholarship".        
Applications are now open for the academic year 2018-19 until 7 November. For more information, visit www.chevening.org/iceland.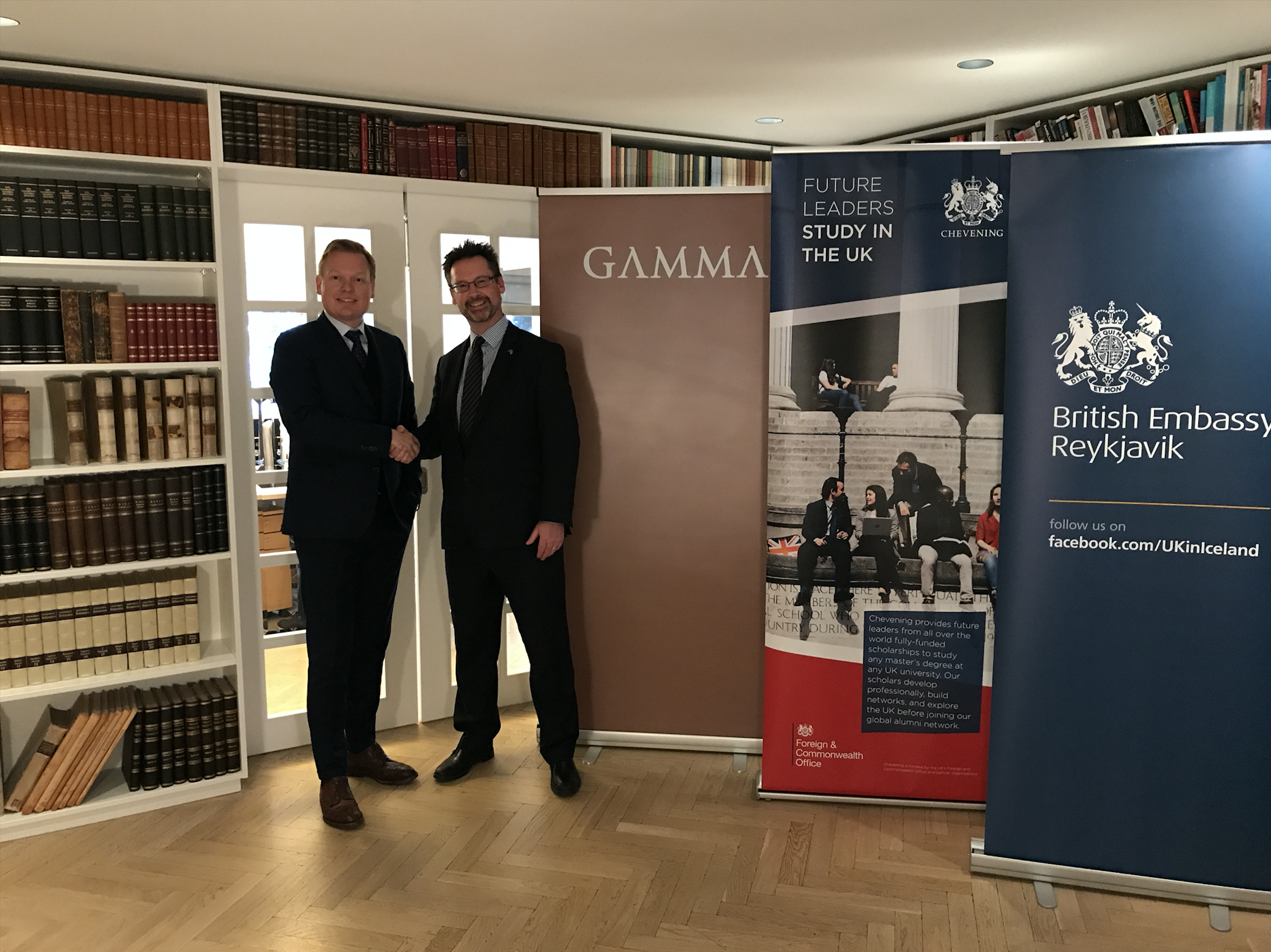 Gísli Hauksson Chairman and CEO of GAMMA (left) and Ambassador Michael Nevin at the signing of the agreement.